Tips for snowshoeing:
A pair of snowshoes can find you into a Colorado winter wonderland with snow-filled trees, peaceful white meadows and trails running next to frozen creeks. There are More than 20 Colorado Nordic centers, 42 state parks and 11 national parks which are a sure way to get you snowshoeing and start discovering and having a fun winter in Colorado.
Click Here for Winter Adventure Tours
Basic equipment needed for snowshoeing:
First layer: wool socks, top and bottom thermal underwear
Second layer: long-sleeved shirt or fleece jacket
Outside layer: Waterproof jacket, gloves or mittens, snow pants and hiking shoes or boots, wool hat, snowshoes
Other items: Polarized sunglasses or goggles; Camelback or other water system, ski or trekking poles; gaiters, daypack with extra socks, sunscreen, first-aid kit, camera, snacks
Snowshoe sizes:
The size of a snowshoe is dependent on weight, not only yours but what you will be packing as well.
100 to 150 pounds = 20- to 22-inch snowshoe
140 to 200 pounds = 25- to 26-inch snowshoe
200 to 230 pounds = 30-inch snowshoe
230+ pounds = 35- to 36-inch snowshoe
Remember if you can walk you can snow shoe.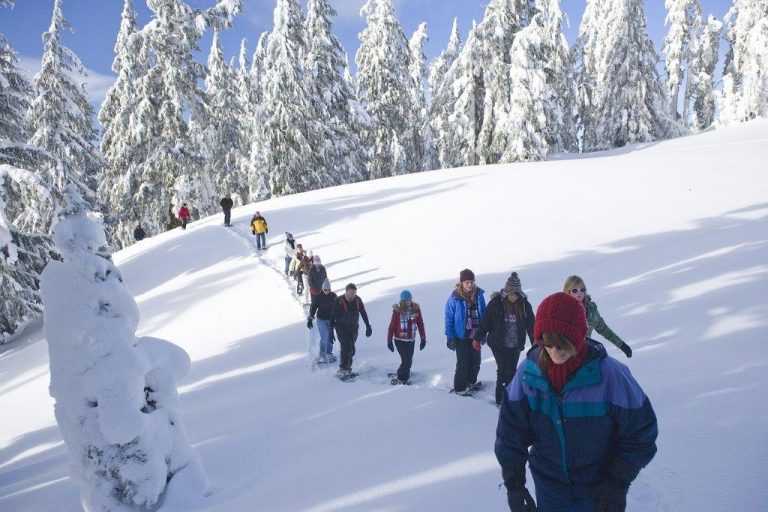 Colorado Snowshoe Trails:
Brainard Lake

Brainard Lake is Often described as one of the most popular area's for cross-country skiing and snowshoeing in all of the Front Range, the area has numerous options for both cross-country skiers and snowshoe's Ward, CO – Snowshoeing – 5.4 miles

Trail Statistics & Information

Activity Type: Snowshoeing
Nearby City: Ward
Length: 5.4 total miles
Elevation Gain: Minimal
Trail Type: Out-and-back
Skill Level: Novice
Duration: 3 hours
Trailhead Elevation: 10,080 feet
Local Contacts: Brainard Lake Recreation

Lost Lake

Lost Lake is Popular because of how close it is to Denver and Boulder, the area has numerous trails. The hike to Lost Lake is a fun outing for any level skier or snowshoer who wants to appreciate the beauty of Colorado. Nederland, CO – Snowshoeing – 6 mile

Trail Statistics & Information

Activity Type: Snowshoeing
Nearby City: Nederland
Length: 6 total miles
Elevation Gain: Minimal
Trail Type: Out-and-back
Skill Level: Novice to intermediate
Duration: 3 to 4 hours
Trailhead Elevation: 8,810 feet
Top Elevation: 9,780 feet
Other Uses: Moderate snowmobile use

Chinns Lake

Though conveniently close to Denver, this tour in the shadow of the Continental Divide is typically uncrowded. The trailhead to Chinns Lake lies within one hour of Denver, but the route is typically uncrowded. Idaho Springs, CO – Cross-Country Skiing – 7.4 miles

Trail Statistics & Information

Activity Type: Cross-Country Skiing / Snowshoeing
Nearby City: Idaho Springs
Length: 7.4 total miles
Elevation Gain: 1,580 feet
Trail Type: Out-and-back
Skill Level: More Difficult; Avalanche Danger: Moderate
Duration: 130 minutes up, 50 minutes down
Season: Mid-November to late March
Trailhead Elevation: 9,560 feet
Top Elevation: 11,040 feet
Other Uses: Good for: dogs
Local Contacts: Arapaho National Forest

Peaks Trail (Breckenridge to Frisco)

After you have heard or read about the Peaks Trail, chances are you will give this beautiful, but challenging tour a try. This is one of those Colorado tours which you will hear about a great deal, since the views are spectacular. The trail goes either from Frisco to Breckenridge or in reverse. The trail is below the Ten Mile Range peaks 1-10 and is a photographer's dream. Frisco, CO – Cross-Country Skiing/snowshoeing – 8.5 miles

Trail Statistics & Information

Activity Type: Cross-Country Skiing/Snowshoeing
Nearby City: Frisco
Length: 8.5 total miles
Elevation Gain: 1,285 feet
Trail Type: Point-to-point
Skill Level: Most Difficult; Avalanche Danger: Moderate
Duration: 177 minutes
Season: Early December to late February
Trailhead Elevation: 10,030 feet
Top Elevation: 10,240 feet
Local Contacts: Arapaho National Forest (Dillon Ranger District)

Bear Lake

Rocky Mountain National Park is 265,727 acres of amazing mountain scenery, including one of the "Fourteeners"—Longs Peak at 14,255 feet. In the park you might have the opportunity for several wildlife sightings, Elk, Moose, Dear, etc. Estes Park, CO – Snowshoeing – 3.6 miles

Trail Statistics & Information

Activity Type: Snowshoeing
Nearby City: Estes Park
Length: 3.6 total miles
Elevation Gain: Minimal
Trail Type: Out-and-back
Skill Level: Novice to intermediate
Duration: 3 to 4 hours
Trailhead Elevation: 9,475 feet
Top Elevation: 10,230 feet
Other Uses: Ice Fishing
Local Contacts: Rocky Mountain National Park

4th of July Road to Buckingham Campground

This is a time consuming snowshoe into the beautiful Indian Peaks area which offers a rare opportunity in winter to see bighorn sheep. . You will snowshoe on a wide, not to steep uphill road, which ends at the Buckingham Campground and the trailhead to Arapaho Pass and Diamond Lake. Don't continue up, as the avalanche danger is considerable on those trails. The road can be icy in the first half mile and it is typically windswept. Nederland, CO – Cross-Country Skiing – 9.8 miles

Trail Statistics & Information

Activity Type: Cross-Country Skiing
Nearby City: Nederland
Length: 9.8 total miles
Elevation Gain: 1,426 feet
Trail Type: Out-and-back
Skill Level: More Difficult; Avalanche Danger: Least
Duration: 130 minutes up, 100 minutes down
Season: Early January to late February
Trailhead Elevation: 8,820 feet
Top Elevation: 10,170 feet
Other Uses: Good for: wildlife
Local Contacts: Roosevelt National Forest

Corral Creek

If you want to get a head start on cross-country skiing or snowshoeing , this is a great trail because it is in one of the areas that gets lots of snow early. Here you can enjoy snowshoeing without the noise of snowmobiles as with the shrine mountain area across the highway on westbound Vail, CO – Snowshoeing – 5 miles

Trail Statistics & Information

Activity Type: Snowshoeing
Nearby City: Vail
Length: 5 total miles
Elevation Gain: Minimal
Trail Type: Loop
Skill Level: Novice to intermediate
Duration: 3 to 4 hours
Trailhead Elevation: 10,550 feet
Top Elevation: 11,000 feet
Other Uses: Moderate snowmobile use
Local Contacts: White River National Forest

Deer Creek

Great early season snow and lots of trails to choose from, this area has become a haven for snowshoers and skiers. Montezuma, CO – Cross-Country Skiing – 4.6 miles

Trail Statistics & Information

Activity Type: Cross-Country Skiing/snowshoeing
Nearby City: Montezuma
Length: 4.6 total miles
Elevation Gain: 880 feet
Trail Type: Out-and-back
Skill Level: More Difficult; Avalanche Danger: Least
Duration: 80 minutes up, 42 minutes down
Season: Mid-November to late March
Trailhead Elevation: 10,550 feet
Top Elevation: 11,400 feet
Other Uses: Good for: dogs
Local Contacts: Arapaho National Forest (Dillon Ranger District)

Lily Pad Lake

This is a popular trail for Nordic skiers and snowshoers in the Dillon and Silverthorne area in Summit County. Because it starts in the Eagles Nest Wilderness Area, no mechanized vehicles or snowmobiles are allowed. The trail is ideal for beginners, Lily Pad Lake Trail is short, has the gentlest of grades, and goes t through meadows and in and out of stands of spruce and aspen to wind up at the pristine, frozen lake. Lily Pad Lake is ideal for picnicking and taking pictures. Silverthorne, CO – Snowshoeing – 3 miles

Trail Statistics & Information

Activity Type: Snowshoeing
Nearby City: Silverthorne
Length: 3 total miles
Elevation Gain: Minimal
Trail Type: Out-and-back
Skill Level: Novice
Duration: 1 to 3 hours
Trailhead Elevation: 9,800 feet
Local Contacts: White River National Forest

Leavenworth Gulch to Waldorf

This beautiful high-alpine basin and lonely ghost town was once a major Colorado tourist destination. It is surprising that this wonderful high-country tour is not better known. Georgetown, CO – Cross-Country Skiing – 12.4 miles

Trail Statistics & Information

Activity Type: Cross-Country Skiing
Nearby City: Georgetown
Length: 12.4 total miles
Elevation Gain: 2,024 feet
Trail Type: Out-and-back
Skill Level: More Difficult; Avalanche Danger: Moderate
Duration: 178 minutes up, 94 minutes down
Season: Mid-November to late March
Trailhead Elevation: 9,560 feet
Top Elevation: 11,594 feet
Local Contacts: Arapaho National Forest

McCullough Gulch

A photographers dream with four impressive Peaks towering above you. This snowshoe trail takes you up McCullough Gulch, south of Breckenridge. Breckenridge, CO – Cross-Country Skiing – 5.8 mile

Trail Statistics & Information

Activity Type: Cross-Country Skiing
Nearby City: Breckenridge
Length: 5.8 total miles
Elevation Gain: 662 feet
Trail Type: Out-and-back
Skill Level: More Difficult; Avalanche Danger: Moderate
Duration: 77 minutes up, 66 minutes down
Season: Mid-November to late March
Trailhead Elevation: 10,848 feet
Top Elevation: 11,350 feet
Local Contacts: Arapaho National Forest (Dillon Ranger District)

Boreas Pass (from Breckenridge)

This high mountain pass offers a long but gentile grade, with amazing views. Breckenridge, CO – Cross-Country Skiing – 13.2 miles

Trail Statistics & Information

Activity Type: Cross-Country Skiing
Nearby City: Breckenridge
Length: 13.2 total miles
Elevation Gain: 1,281 feet
Trail Type: Out-and-back
Skill Level: More Difficult; Avalanche Danger: Moderate
Duration: 150 minutes up, 114 minutes down
Season: Early December to late February
Trailhead Elevation: 10,350 feet
Top Elevation: 11,481 feet
Local Contacts: Arapaho National Forest (Dillon Ranger District)(from Breckenridge)

Keystone Gulch

The Keystone area in Summit County has over 26 kilometers of groomed trails and an additional 50 kilometers of backcountry trails, mostly old mining roads. Keystone, CO – Snowshoeing – 10 miles The trail climbs gradually and becomes too steep for the beginner toward the end where it is recommended for intermediate and advanced skiers and snowshoers. Many skiers or snowshoers stop before the big climb begins and head back about 5 miles from the trailhead.

Trail Statistics & Information

Activity Type: Snowshoeing
Nearby City: Keystone
Length: 10 total miles
Elevation Gain: 2,460 feet
Trail Type: Out-and-back
Skill Level: Novice to intermediate
Duration: 5 to 7 hours
Trailhead Elevation: 9,200 feet
Top Elevation: 11,960 feet

Echo Lake

Clear Creek County is close by to Metropolitan Denver and has many winter trails. One of these is the loop around Echo Lake. Echo Lake Park is one of the Denver Mountain Parks. The trail is basically flat, Be aware of the lake and lookout for thin ice. Lamartine, CO – Cross-Country Skiing – 1 mile

Trail Statistics & Information

Activity Type: Cross-Country Skiing
Nearby City: Lamartine
Length: 1 total miles
Elevation Gain: Minimal
Trail Type: Loop
Skill Level: Easy
Duration: 30 mins
Season: Winter
Trailhead Elevation: 10,597 feet
Top Elevation: 10,597 feet
Local Contacts: Arapaho National Forest

Frazer Meadow

When there is enough snow, Golden Gate Canyon State Park can provide some good snowshoe experiences. Smith Hill, CO – Cross-Country Skiing – 4.6 miles

Trail Statistics & Information

Activity Type: Cross-Country Skiing
Nearby City: Smith Hill
Length: 4.6 total miles
Elevation Gain: 1,260 feet
Trail Type: Out-and-back
Skill Level: Moderate
Duration: 2 hrs 8 mins
Season: Winter
Trailhead Elevation: 8,400 feet
Top Elevation: 9,200 feet
Local Contacts: Golden Gate Canyon State Park

Alberta Falls

The number of trails near Bear Lake in Rocky Mountain National Park offers many options for both winter and summer trekking. Beaver Point, CO – Cross-Country Skiing – 1.8 miles

Trail Statistics & Information

Activity Type: Cross-Country Skiing/ snowshoeing
Nearby City: Beaver Point
Length: 1.8 total miles
Elevation Gain: 272 feet
Trail Type: Out-and-back
Skill Level: Easy
Duration: 48 mins
Season: Winter
Trailhead Elevation: 9,200 feet
Top Elevation: 9,400 feet

Peru Creek

If you are a beginner skier or snowshoer who wants to take in the rich mining history of the area while enjoying pleasant backcountry snoeshoeing the beginning part of this tour is well suited to see the old mines. Montezuma, CO – Snowshoeing – 8 mil

North Tenmile Creek

North Ten mile Creek is an excellent option to snowshoe because there are no motorized vehicles are allowed in the Eagles Nest Wilderness Area. Hence you are alone with scenic canyons that were carved thousands of years ago by glaciers. The trail actually begins at the end of Main Street, great location for an early morning breakfast or a hearty lunch afterwards. Frisco, CO – Snowshoeing – 10 miles

Trail Statistics & Information

Activity Type: Snowshoeing
Nearby City: Frisco
Length: 10 total miles
Elevation Gain: 850 feet
Trail Type: Out-and-back
Skill Level: Intermediate
Duration: 5 hours to full day
Trailhead Elevation: 9,400 feet
Top Elevation: 10,250 feet
Other Uses: Moderate snowmobile use for first 2.5 miles
Local Contacts: White River National Forest

Hunkidori Mine

This is one of those unique trails with terrain equally suitable for both snowshoers and skiers. Think about a backcountry tour with awesome scenery, some moderate downhill runs for skiers and snowshoers. Silverthorne, CO – Cross-Country Skiing – 7.2 miles

Trail Statistics & Information

Activity Type: Cross-Country Skiing
Nearby City: Silverthorne
Length: 7.2 total miles
Elevation Gain: 1,310 feet
Trail Type: Out-and-back
Skill Level: More Difficult; Avalanche Danger: Moderate
Duration: 73 minutes up, 68 minutes down
Season: Late November to early March
Trailhead Elevation: 10,300 feet
Top Elevation: 10,990 feet
Local Contacts: Arapaho National Forest (Dillon Ranger District)

Shrine Pass

This is one of those unique trails with terrain equally suitable for both snowshoers and skiers. Think about a backcountry tour with awesome scenery, some moderate downhill runs for skiers and snowshoers. Silverthorne, CO – Cross-Country Skiing – 7.2 miles

Trail Statistics & Information

Activity Type: Cross-Country Skiing
Nearby City: Silverthorne
Length: 7.2 total miles
Elevation Gain: 1,310 feet
Trail Type: Out-and-back
Skill Level: More Difficult; Avalanche Danger: Moderate
Duration: 73 minutes up, 68 minutes down
Season: Late November to early March
Trailhead Elevation: 10,300 feet
Top Elevation: 10,990 feet
Local Contacts: Arapaho National Forest (Dillon Ranger District)
Click Here for Winter Adventure Tours